Comprehensive Kaska Treatment Strategy
| | | | |
| --- | --- | --- | --- |
| Comprehensive Kaska Treatment Strategy | | | |
In April 2008, the Liard First Nation (LFN), under the project leadership of the Liard Aboriginal Women's Society (LAWS), launched a community-based process with the Kaska community and individuals of the Town of Watson Lake to identify a path leading to a healthy community. We wanted to answer questions on how best to address the epidemic problem of alcohol and drug addiction in our community.  This two-year process was funded by the Northern Strategy Trust Initiative to complete a three-year treatment strategy.  Beringia Community Planning Inc. was hired to assist with planning facilitation, research, analysis, and documentation.
Based on our participatory five-phase planning process, we engaged over 256 individuals including Elders and youth, women and men, Kaska Chiefs and Councils, the Mayor and Council of the Town of Watson Lake, principals and teachers, and health professionals, organizations and agencies involved in the health and well-being of our community.  This was a tremendous effort. After two years of engaging individuals through talking, questioning, drawing, listening, storytelling, researching, and writing, we are celebrating the completion of our Regional Treatment Strategy.
We have created this strategy for a community-based substance abuse healing system that is for the community, by the community. It is based on traditional and local knowledge and values, targeting our strengths and assets. Our vision is for a culturally appropriate healing system. We also want a more inclusive and self-reliant community, one that emphasizes effective intergenerational relationships, cross-cultural partnerships and relations, collaborative and cooperative working relationships, and increased equity in the contribution of men's and women's roles within our community.
Our strategy provides a framework for action to support the long-term change we desire. It sets out our vision statement, identifies priorities based on wise choices, and uses our resources to achieve our nine agreed-upon objectives. It is holistic and comprehensive in that it considers the social, economic, health, cultural, educational, and land-based needs of individuals in our region. We believe that this strategy and the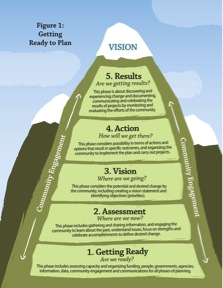 social learning generated from the planning process will ultimately lead to improved health and wellness, increased social capital, sustainable development, and environmental stewardship.
Our 52 actions are grouped under 12 action themes as follows: 1) Planning Process; 2) First Steps - Implementation; 3) Current & Expanding Actions; 4) Health Governance; 5) Agency Collaboration; 6) Capacity; 7)
Financial & Economic Development; 8) Community Engagement; 9) Youth; 10) Healing Programming;
11) Learning & Education; and 12) Health Infrastructure (Healing Centre).
The projected cost to implement our 52 projects over 3+ years is estimated to be $16.2 million.
This executive summary report is organized into five planning phases: 1) Getting Ready; 2) Assessment; 3) Vision; 4) Action; and 5) Results. There is a longer version of this report and a 500+ page Appendices Binder to support our findings.
On behalf of LFN and LAWS, thank you to the many individuals who made this strategy possible.
View our complete report here
Here is our quick summary report here
Recent newsletters; newsletter #2