Together for Justice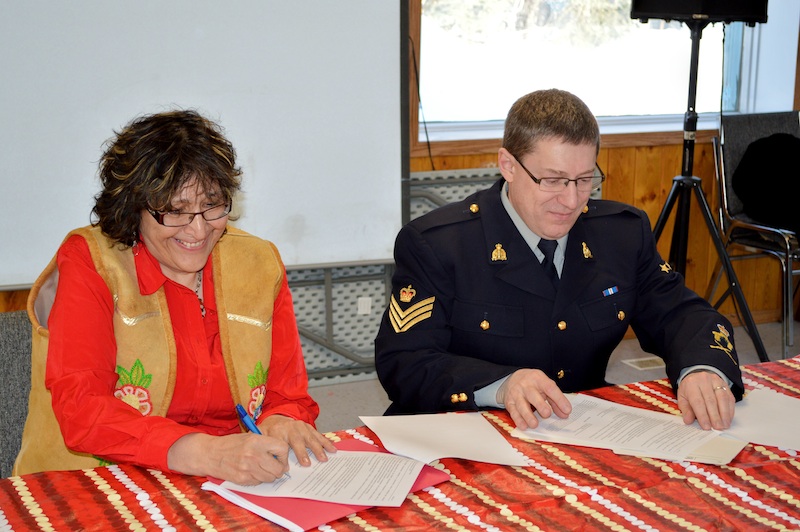 The Liard Aboriginal Women's Society (LAWS) and Watson Lake RCMP have broken new ground with a unique community safety initiative. "Together for Justice" is a protocol for building community safety that confirms the new relationship that has been built between LAWS and the local RCMP. On International Women's Day, Friday March 8, 2013, we celebrated our shared journey and commitment to continue a collaboration that advances safety for women.
The protocol follows a series of workshops that took place from February 2011 to March 2013. The project was initiated by LAWS and held in both Watson Lake and Whitehorse. RCMP employees have joined with Kaska women, Yukon Women's Coalition delegates, representatives from government and community organizations. Sessions have carefully focused on the justice system, policing, culture, historical colonialism and residential schools to explore and understand how society responds to women who experience violence.
The Protocol establishes principles, objectives and core commitments which capture the new relationship.
Thank you to Dr. Allan Wade, and Dr. Cathy Richardson, of the Centre for Response-Based Practice in British Columbia facilitated the two year process. LAWS would like to thank all those that participated in the workshops and helped to de-velop the protocol.
Safety Protocol Documents:
pdf Together for Justice Safety Protocol 2013 03 05 (679 KB)
pdf Release Protocol Signing FINAL 2013 03 06 (82 KB)
pdf Advisory Protocol Signing Celebration 2013 03 06 (57 KB)