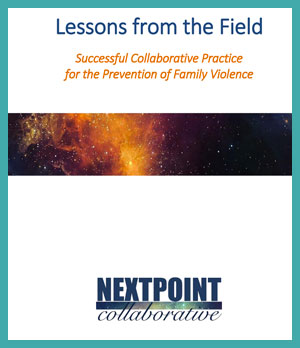 Report: Lessons from the Field: Family Violence Prevention
Excerpt from a letter from Dianne Kinnon of Nextpoint Colllaborative to  Ann Maje Raider of  Liard Aboriginal Women's Society:

---
Thank you once again for your time and effort on behalf of the project. We hope you can take pride in your contribution to collaborative practice knowledge and that you find the reports useful in your ongoing work. 
Here also in the link to our Nextpoint Collaborative web page where the reports are available for download.
The Family Violence Initiative at Public Health Agency of Canada (project funder) will be linking to the reports, and also providing a French translation in the coming months.
Please use, distribute and promote the reports as you like. 
Best regards.     
Dianne Kinnon and Wanda Jamieson
Nextpoint Collaborative